This menu makes it possible to manage a file when you uploaded it. You can check and change the details of a file as follows, while it is been uploaded.
■Content management
・Deletion of an uploaded file
・Check download URL
・Email sending of URL
・Setting change of an upload file: File name, Upload period settings, Password, Comment, Email group, File group
Back to list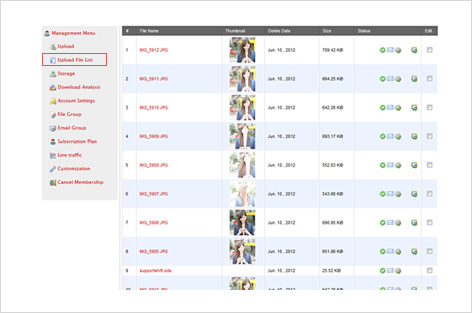 This menu makes it possible to store your file continually unless you delete it.

There are two ways to store.
1. Add a file to "Storage" by editing file details by using "Upload file list".
2.Upload a file by using "Storage"*
* Basically any download URL is not issued, but you can issue it by editing file details in "Storage".

Storage capacity is as shown below:
Free Membership: 2GiB *Your files will be deleted from the firestorage system if you do not login for more than 30 days.
Standard Membership: 25GiB
Professional Membership: 25GiB

If you need more storage capacity, you can purchase extra as below.
25GiB: $4.99
50GiB: $9.99
Back to list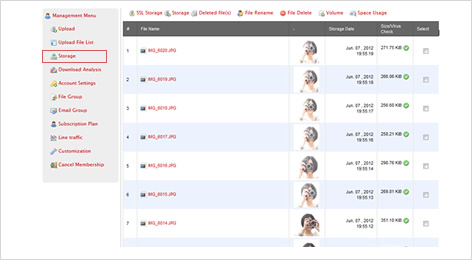 This menu makes it possible to put files together in one Download URL for a File group. By dividing into a File group for your company or client, appropriate files become downloadable by one Download URL. When you upload, or also after you upload, you can use this menu in both cases.
Back to list
This menu makes it possible to send email which contains the Download URL to those who wants to share. By setting up Email group, you can select any group when you upload a file. Moreover, you can change a name of Email sender, and you can set multiple Email groups which contain multiple Emails.
Back to list